Canada's 6.3% Inflation: Gas Prices Fall, Grocery Prices Rise.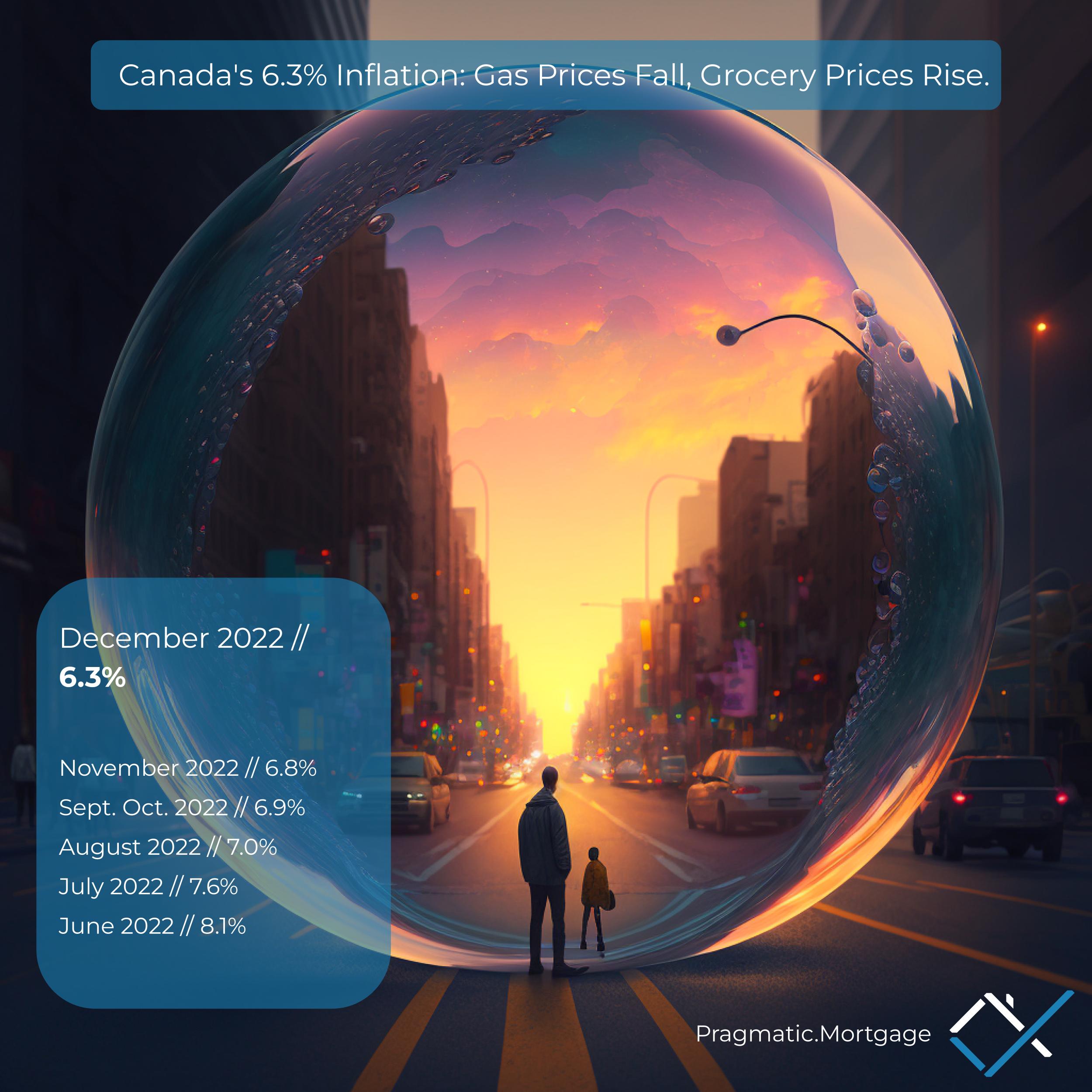 As Canadians brace for another potential interest rate hike by the Bank of Canada, new data released by Statistics Canada has revealed some promising news on the inflation front. According to the figures published on Tuesday, the country's annual inflation rate cooled to 6.3 per cent in December, its lowest level since February. This deceleration in the cost of living was mostly due to a 13 per cent decrease in the price of gasoline, which saw its biggest one-month plunge since April of 2020.
Fuel Demand Weakens, Groceries Surge
The average gasoline price across Canada is now only three per cent higher than it was this time last year, before the Russian invasion of Ukraine turned the global oil market upside down. This is welcome news for Canadians who have been struggling with the high cost of living and the burden of high interest rates on their finances.
However, the same cannot be said for the price of groceries. Despite a slight slowdown from the previous month, grocery prices still inched up another 0.3 per cent during the month of December, and have increased by 11 per cent year over year. This is particularly concerning for Canadians as food is a basic necessity, and many are struggling to make ends meet. Fresh vegetables, in particular, have gone up in price by 13.6 per cent in the past year.
The high cost of food is affecting Canadians in all parts of the country. For example, in Toronto, shopper Kara Manovich has noticed the price of just about everything is skyrocketing lately. "I'm just taking the approach that there's not much I can do… we've all got to eat," she said in an interview with CBC News. "I can't starve, sadly, so I've just got to roll with the punches, I guess."
Meanwhile, in Burlington, Ontario, Rick Squires, the general manager of Roseland Produce, a food importer that ships fresh produce all over southern Ontario, has a front-row seat to high food prices coming in and out of his business, every day. He says that on average his costs are up across the board by about 30 to 40 per cent from where they were before the pandemic. This is due to a combination of factors including labour costs, transportation, and supply chain disruptions.
While some consumers are waiting and hoping for prices to come down again, Squires worries that the current elevated level for produce may be the new baseline. "That $25 for a case of strawberries, I don't think we're ever going to see that again," he said. "We could be into the new normal for the price of produce."
The Final Number
Despite the high cost of food, there is some positive news as overall, the cost of living actually declined by 0.6 per cent on a monthly basis from November to December. This is the biggest monthly drop since 2020, and enough to bring Canada's official inflation rate down to its lowest point in almost a year.
While the inflation rate is still more than twice the upper range that the Bank of Canada likes to see, economists expect the central bank is likely to raise its benchmark interest rate at least one more time, when it meets to set monetary policy next week. However, with the latest data indicating a decrease in the cost of living, the bank may choose to hold off on raising rates for the time being.
In conclusion, the latest data on inflation in Canada is a mixed bag, with gasoline prices showing a significant decrease, but food prices continuing to rise. While the cost of living has declined overall, it is still a concern for many Canadians who are struggling to make ends meet. The Bank of Canada will be closely monitoring these numbers as it considers future interest rate hikes.
Sign up for our monthly newsletter